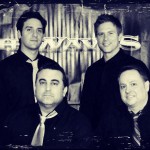 Ryan Stadelmann– Lead Vocals, Acoustic Guitar
As The Waves lead singer, Ryan "The Golden God" Stadelmann has pipes that can blow the roof off the house! His stage presence has  inspired comparisons with world famous front men Robert Plant, David Lee Roth, and Herbert Khaury (better known to his contemporaries as Tiny Tim). Ryan will mesmerize you with his acoustic guitar stylings while the rest of the band elevates the song to get the dance floor jamming!
Did you know? Ryan is a self-proclaimed fire-walker whose expertise in adult undergarments is the thing of legend. Ryan's musical inspirations are folk rockers Peter, Paul and Mary, and yes his favorite song is "Puff the Magic Dragon".
Rick Welch– Lead Guitar, Vocals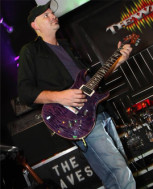 Rick "man of many hats" Welch, The Waves lead guitarist and keyboard player extraordinaire has been known to light his guitar fretboard on fire while making hat changes to match the song genre. Keep track of how many different hat changes Rick makes during a show & you could win a Waves Tee Shirt!
Rick may have a tough exterior but he isn't afraid to admit to openly sobbing throughout most of the cinematic release of Purple Rain. In fact he credits the emotional outburst for his penchant of all things Purple and his zeal for guitar
Did you know? Rick is an IT specialist who invented the chat room. Rick's musical inspiration is Englebert Humperdinck although he has received many pucks to the head.
Paul Casale– Rhythm Guitar (Acoustic/Electric), Vocals
Paul "Paulie Walnuts" Casale isn't just strictly rhythm guitar; he offers up some of the authentic leads and solos that give the Waves their diverse sound. Don't be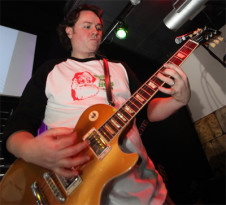 too distracted by his hot licks or flashy guitar changes because "Walnuts" takes some turns at Mic that will leave you yearning for more (please don't through Walnuts at him on stage).
Did you know? Paul got his musical start as the wardrobe designer for an ill-fated Bay City Rollers cover band in the early nineties? Though their tragic end sparked many questions about waffle house safety standards, Paul used the experience as inspiration to step out into the limelight. Like a young Steve Guttenburg circa the 1985 feature film Cocoon, Paul spends his days helping seniors rediscover the carnal joys that make life worth living. His musical inspirations are The Thompson Twins; he listens to "Hold Me Know" on repeat.
Eric Guy – Bass Guitar
Since Eric Guy, AKA "Ginger Thunder", was just a young boy he loved two things: Ballroom dancing and Bass Guitar. It seemed that one way or another rhythm would be a driving force in his life. With Eric's constant pursuit of excellence in both activities, his grades began to suffer and it soon became clear that he w…ould have to pick just one of these hobbies.  Much to the disappointment of his boyhood bandmates, it appeared that Eric had selected dancing, as at 13 years old he was accepted into the acclaimed Juilliard School of Dance in New York. However, after tirelessly working on his freshman thesis, a solo contemporary interpretation of Goodnight Moon, Eric suffered a career ending injury in the now famous "bowl of mush" sequence. The injury left him with a broken heart and a prosthetic calf implant, but it could not dispel his passion for rhythm. In the Fall of 2014, Eric joined The Waves and their fans could not be happier. His command of the bass and his innate sense of timing are perfect compliments to the band.
Did you know that Eric owns a doggy dance studio in Carver called "Bones and Ballet"? Stop by with your pooch and see if they have what it takes to promenade their paws with the premier pack of pups in Plymouth County.
Dan Joyce –  Keyboards / Synth, Vocals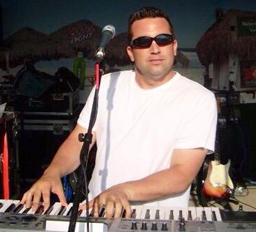 Dan "Dirty Jingles " Joyce, the newest addition to The Waves, has 88 ways to get you grooving and a bitch ain't 1. As a young boy, Dan worked as an apprentice for his uncle Leroy, a then world renowned taxidermist. One of their regular customers brought in his recently expired grandmother and asked that she be forever memorialized sitting at the family's baby grand. As Dan labored over bringing eternal life back into her gnarled knuckles, he couldn't help but notice the twinkle in her lifeless eyes as she sat over the ivories. He spent the next few years honing his skills on the piano in his spare time between disambiguations.
Dan paid his way through school collecting tips from the patrons of the Plymouth-Brockton bus line. Stowed away onboard, he would entertain them with his x-rated versions of popular TV advertisements. His rendition of the Chock full o'nuts theme was considered by most to be "inappropriate". Dan is the perfect complement to The Waves wide ranging catalog. Be sure to give Dan some love from the dance floor and just maybe he'll grace you with one of his classic "Dirty Jingles".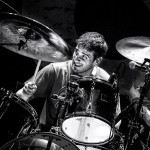 Mike Najarian – Drums, Vocals
Although Mike Najarian has accumulated more than a few fans in the last decade playing drums for bands like State Radio and Closing Time, very few people know that Mike "Najarian" was actually born Channing Michael Tatum. Following the inexplicable success of his name-fellow, Channing Michael had his name legally changed to Mike Tatum in June 1994.
Then in April of the following year, in what would become known as the Channing Chocolate Chokedown incident, a stalker, so convinced he was the chiseled star of the Miami Male Revue, surprised Mike outside a Fort Lauderdale convenience store, nearly asphyxiating him with what she mistaking thought were edible undergarments. After a lengthy investigation and embarrassing legal battle, Mike ultimately decided to flee the country.
Desperate to find a new identity, Mike landed a job as assistant chip-licker for the Sabritas chip factory in Mexico City, Mexico, where he quickly climbed the Sabritas corporate escalera. His ability to work long hours at the highest rate of production for the then small snack company, quickly became a thing of local legend. It was his "companeros de trabajos" that affectionately referred to him as "Miguel de Naja", loosely translated to mean "Full Speed Mike". In the summer of 2003, upon receiving news that Sabritas had been acquired by Pepsico and his relocation back to the States, Mike embraced his salty-snacked identity and henceforth took on the moniker, Mike "Najarian".
Come see Mike at one of the next Waves shows where he will amaze you with his speed and proficiency on the drums, but be fairly warned: security personnel are authorized to use lethal force against any concertgoers attempting to approach Mike in possession of lingerie, edible or otherwise.